Postgraduate students at the Faculty of Law and Political Science hold a seminar entitled "Legal Protection for Displaced Persons".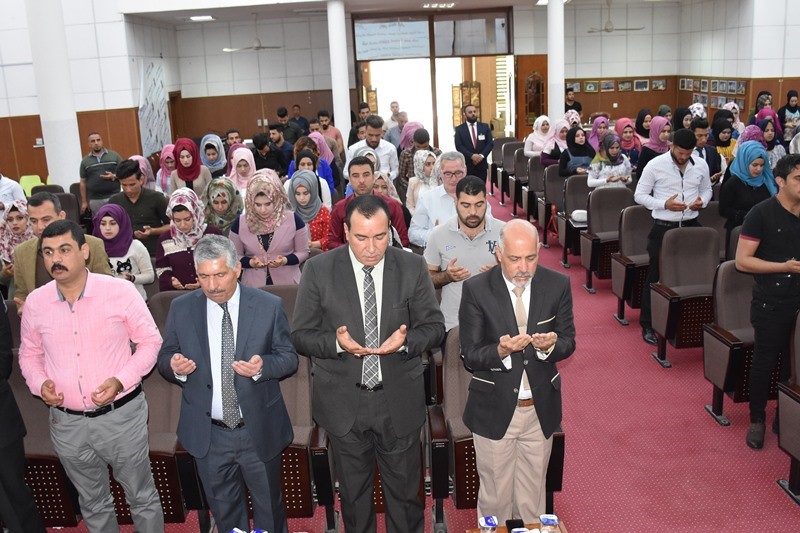 Professor Dr. Khalifa Ibrahim Odeh headed a team of graduate students at the Faculty of Law and Political Science in a new experiment by replacing the written examination with the completion of an applied study entitled "Legal Protection for Displaced Persons". The students of postgraduate studies, Master of Public Law / Human Rights and Public Freedoms, in cooperation with Diyala Police Department – Media and Relations Department, and Diyala Human Rights Organization, organized a scientific seminar in which the students (Star Kazim Jawad) and (Iman Hamoud Sulaiman) explained Homelessness and the most important reasons that lead to this phenomenon and then its effects on society. Homelessness has been defined as a pattern of non-social behavior patterns whose practice poses a threat to the community, with reference to the legal protections of this group of people and ways of dealing with them under Iraqi legislation.
Mr. Taleb Hussein Jawad, a human rights activist, spoke of the difference between the concept of homelessness and begging. He pointed out that the phenomenon of the displacement of children in particular is one of the dangerous social phenomena experienced by societies that are unstable financially and economically. The researcher presented important statistics since 2012 until 2018 linked between the cases of divorce and death and the increase phenomenon of children of unknown descent in the province and between the aggravation of this phenomenon. Colonel Ghaleb Jawad Al-Attiyah, Media Director of the Diyala Governorate Police Directorate, also presented important statistics in this section according to age and gender. The symposium concluded with a number of proposals calling for the Iraqi legislator to address the legislative shortcomings to limit and address this phenomenon.